Posts tagged with "November2018"
---
In last week's Southern Star, I explored some frequently asked questions (FAQ) in relation to CBT. The column is reproduced below. Cognitive behavioural therapy (CBT) has been around for over half a century and there's more awareness than ever before about its benefits. Still, when I mention I'm a CBT therapist, I'm often asked the same questions. What is CBT exactly? Is it about thinking positive? What makes it different to other psychological therapies? So here goes – CBT in 700...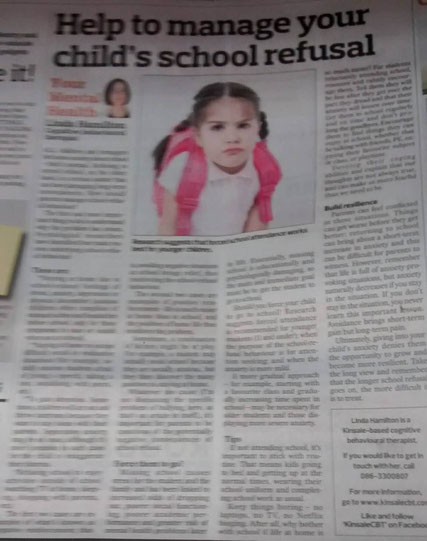 Last week's Southern Star column explored how to manage the problem of school-refusal behaviour in children and teenagers. The column is reproduced below. All children and teenagers feel some anxiety about school – that's normal. Refusing to attend school, on the other hand, is a serious matter that can have damaging long-term consequences. How should parents manage school-refusal behaviour? The first and most important thing to do is understand why the problem has arisen. Psychological...